_Saturday, November 26, 2005_


Georgie, Georgie, they call you the Belfast boy

:( He's gone now, after succumbing after complications to his body, there was a picture in the NOTW not so long ago which was published wit Best's approval tos how the effects of alcoholism. It was just heartbreaking to see him in such a state. No matter what your opinion of him of what he has done to his life, I am sure everyone would appreciate the genius taht was George Best. I regret never having seen him play, but the clips were fantastic to say the least. Jose Mourinho told it very well, "I never saw him but I got quite tired of my dad talking about him. Then I saw videos of him and I never tired of them.

"Players like Best they never die, what they leave behind them never dies."
Well put by Mourinho there, as well as other tributes.




Here's a good piece off the caf:
He was an inspiration to me as a young lad.

When I was a 10 or 11 year old football mad kid a friend of the family worked in the dressing rooms at Southampton. He used to get me in free each week, stick me in the west stand, collect my autograph book and return it at the match end with all the visiting sides signatures. He knew I was nuts about United and George Best in particular having advised my mum where to buy those purple laced-at-the-side boots for my Xmas present.

On the day of Uniteds visit to the Dell he stuck me in the west stand as usual and I stood there and witnessed first hand the total brilliance of the man as United ran out 5-2 winners with George scoring a sublime hat-trick. He could have beaten Saints by himself that day. More than that, after the game Tom came and fetched me and this time sent me into the United dressing room to get the autographs myself. George took my book to sign it, fished out a 10 bob note and said "Do us a favour lad. Go fetch us a coke at that kiosk out there" which I duly did while George passed my book around the rest of the team. I went home the happiest nipper in the world. I still have the book which at this very moment I am dusting off to show off to my mates at the pub tonight where I shall drink to memory of the legend that inspired me and millions of other little boys and was almost single-handedly responsible for the worldwide fame of Manchester United Football Club.

There will never be another George Best and I am totally gutted because I feel part of my life has gone.

R.I.P.

Other links come from the excellent Guardian site here:
http://football.guardian.co.uk/obituary/0,16836,1650894,00.html
http://football.guardian.co.uk/obituary/0,16836,1650908,00.html
http://football.guardian.co.uk/obituary/0,16836,1650898,00.html
http://football.guardian.co.uk/comment/story/0,9753,1646611,00.html
http://football.guardian.co.uk/News_Story/0,1563,1650341,00.html
http://football.guardian.co.uk/comment/story/0,9753,1650342,00.html
http://football.guardian.co.uk/comment/story/0,9753,1650475,00.html

Extract from one of the links
Best's sometime drinking partner and friend, the sportswriter Hugh McIlvanney, has recalled a night in the Brown Bull straight after Best had played in a European Cup match at Old Trafford: "No one had given much thought to dinner but, by the time the after-hours session was under way, hunger was a problem. At least it was until Best went round taking fish and chip orders from everyone in the bar, then disappeared. He returned half an hour later, not merely with all the orders accurately filled but with plates, knives and forks for everybody. The waiter seemed less like a superstar than the appealing boy who had worked small miracles with a tennis ball on the streets of the Cregagh housing estate in east Belfast."






_Saturday, November 19, 2005_
Keane is gone.

From Manchester United.

Even after over 6 hrs since the announcement I still can't get over it. Captain Fantastic, just gone like that, just walked out with his head held high, prolly off to sunny sunny Scotland and Celtic. Best of luck Keaney! You've earnt it, what a brilliant, fantastic, all the adjectives could be described here and it would still be understatement.

It had been boiling over recently, granted but noone could have anticipated such an acrimonious parting, and I definitely believe Fergie had something to do with this, but I do not believe reports that Keano smacked Fergie in the face during training, I reckon it's more down to Fergie saying he will not be offering a new contract to Keane at the end of the season and Keane felt that itwas best for him to step aside, but why now begs the question. But it will definitely help to attract more top class midfielders eg Ballack, since they won't have the lingering presence of Keane, but definitely we need a central midfeilder fast, get back Davie Jones!!!!

Enough of analytical crap, and onto fond fond memories of Keane, he has provided Manchester United with so much joy, drove the team on incessantly. Juve 99, what a brilliant performance, Keano to Beckham: Put the ball on my head son, Beckham did and Keano duly headed in to give us a glimmer of hope after being 2-0 down aerly on, and he got booked later whcih would have meant that he would miss the final, but instead of hiding he played even more like a mna posessed, driving the team on and winning 3-2 to get into the final, brillinat. We beat arsenal 3-0 I recall as well in the peak of his powers in 2000, Keano scored a brace, and noone could touch him then. The Haaland incident as well, that was the it could be said bad side of Keane, but we fuckin loved him nonetheless, and the tunnel incident where he told Vieria where to stick it, wonderful.

Maybe this is a bit lame but I created a friendly tournament on my FM Everton game called Roy Keane Appreciation Cup, and I won it in style, 3-1 over Anderlecht, 11-1(!) over PSG, and 4-1 over Partizan Belgrade.

And finally a prose for the legend that is Keano!
Goodbye Roy, my trusted friend
We've known each other
Since Blackburn were around
Together we climbed hills and leagues
Learned of Spurs and Real Madrid
Skinned our hearts and skinned our knees

Goodbye Roy, it's hard to die
When all the Scousers
Are singing in the sky
Now that Peter Crouch is in the air
Stevie G is everywhere
I wish we could both be there

We had joy,
We had fun,
We had Arsenal on the run
But the titles and the songs
Like Beckham have all gone

Goodbye Fergie, please pray for me
I was the black sheep
Of the family
You tried to show me right from wrong
But too much wine and too much song
Wonder how I got along

Goodbye Gaffer, it's hard to die
When Jose Mourinho
Is singing in the sky
Now that John Terry is in the air
Chelsea fans are everywhere
Think of me and I'll be there

We had joy,
We had fun,
We had Arsenal on the run
But the titles and the songs
Like Beckham have all gone

Goodbye Triggs, my trusted dog
Without you
I'd had a lonely life
You chewed my boots from time to time
But I forgave you in the end
Cos you're my one true friend

Goodbye Scholesy, my little one
You gave me joy
And helped me find the sun
And every time when I was down
Wetherall & Haaland came around
As I lay there on the ground

We had joy,
We had fun,
We had Arsenal on the run
But the titles and the songs
Like Beckham have all gone

Goodbye 4-4-2, it's hard to die,
Nobody wants to play for Ireland more than I do.
With Vieira singing in the tunnel,
Poor Gary Neville about to take a tumble,
And I wasn't having it
So I made him look like a tit

Goodbye to Manchester, the Stretford End,
Where all the prawn sandwich fans,
Aren't singing in the sky,
Now that Malcolm Glazier is in the air
When you need a new gaffer in a year
Just think of me and I'll be there

We had joy,
We had fun,
We had Arsenal on the run
But the titles and the songs
Like Beckham have all gone

Memories of Keano: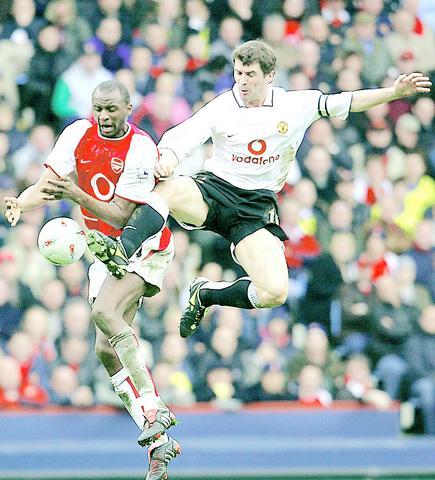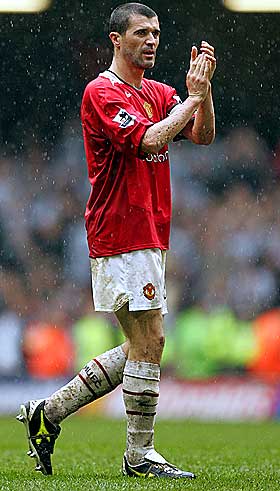 All the pics encapsulates KEANE,!



_Monday, November 14, 2005_
Right I've been infected so here's 5 random facts about my good self.

1. I have to sleep 12 hrs everyday for some reason during the holidays, usually 3am-3pm or summat.
2. I found out about football and in particularly United by reading some World Soccer magazine that my dad borrowed in 2002 or summat. I was reading the results page and for some reason or another The name Manchester United stuck out. I somehow continued liking United and borrowed more World soccer magazines to check out their results(ok that's retarded).
3. I hate neatness for some reason I'd prefer my computer table to be messy and strewn with stuff arther than it being completely neat and tidy. Maybe it's just me.
4. I can't watch United when I am using the computer for some reason, if I do they invariably lose. Examples include the 2-0 loss to arse in the FA Cup a couple season back, and the 1-0 loss to Lille recently and another 1-0 loss to Southampton a couple seasons back as well.
5. My FM teams just cannot keep a clean sheet or at least tight at the back, my teams just somehow always are among the bottom few for goals against, but thank feck they are also amongst the top for goals scored.

And I shall be a kind soul and not pass it to anyone cos it;s crap really.



_Sunday, October 30, 2005_
I love FM 2006.

Yep it has been even better than 05, the features are brilliant I have to say. Teamtalks and all. Been managing West Ham and I think we're about the most Jekyll and Hyde side ever with 11 wins 1 draw and 8 losses. 38 goals scored and 35 goals conceded, best attack and worst defence in the league, I think I can have a heart attack watching the matches. Daniel Fredheim Holm has been an absolute gem as well, 18 goals in 20 games just phenomenal.

The only problem is the difficulty to set up network games just like on previous versions. Weird.

Oh well let me go on another FM binge now.



_Monday, October 24, 2005_
Feck I'm drinking just about the worst ice lemon tea ever

Super ice lemon tea or summat, I definitely don't think it's super

And it was someone's brilliant idea to buy feckload of it so the fridge is full of this rubbish.



_Tuesday, October 18, 2005_
Guess who's back.

I've been thinking about it and I did not actually do much useful in the time that I have not been blogging. As in studying meaningfully without distractions, eg. fm. But EOYs are over, that's what counts. Results don't. Or so I'd like to think. I'd like to come up with the excuse that I tried my best blah blah blah but I guess I can't. Plainly because I have not put in much hard work. Let's get on with some weird review of the exams or summat.

English:
Same old same old, not much that I did not expect, compo with usual topics that you can cram in 1000 of phrases that you copied off a compo book(thankfully I did not choose that topic), cliched stuff. A compre full of shit that tries to sound chim but is total crap.

History:
Seeing that there was a feckload to memorise and I only bothered trying to implant those useless information into my brain about 24 hrs before the main exam, I think I did quite well. I mean who would want to know how to spell Alfonso D'Albereque or summat's name when you are trying to get a job or summat.

Chi paper 1:
Well at least this time the phrases came in useful because my chinese is so bloody shite.

Lit:
Yeah I may have done well for lit or summat for CA but that doesn't mean I am going to pass it with flying colours. Because I am not. Spent about 45 mins on question 1(a) alone, and thought I could afford it because I thought it was a 2 hr paper for some reason. Ended up rushing the rest, especially unseen poem, only had about 10 mins left for it. Totally did not get the poem at all, and only wrote one side for all three questions.

Maths:
I am not even 100% sure on any of my answers because I did not have any time to check. I think I am going to do shite.

Science:
I summarised the whole tb into 7 pieces of paper a day before the exam. And did not have time to actually memorise it or summat. But I think I am going to do ok for this one.

Chinese:
No comments.

Home econs:
Who actually gives much of a shit?

Right so conclusion is I am going to do shit. Just as well then.

And I have been wasting money on random things for the past few days, bowling, LAN, fast food and other stuff. Blah.

Btw let's take a look at my wishes and see what has come true so far.

Crows did actually stuff Port tho we got knocked out by WCE. Oh well. And Pavlich deal did not materialise :(

Federer beat Agassi in Us open

Alonso beat Kimi to championship despite Kimi winning in Brazil, as well as Japan two weeks later. As well as Mclaren winning six races on the trot before Shanghai. Blah, what could have been but for engine failure after engine failure, tough luck, and next year will be even tougher with Schumacher coming back with all guns blazing.

United don't seem close to winning the league due to the gaytards that are ski, but I am glad that talents like Rossi is getting a chance in the first team, Bardsley as well, and Fergie listening to the fans and trying out 4-4-2 again. The two vans are also a bright spot, van der Sar and van Nistelrooy have been in great form at different ends of the pitch. Tho Keano is supposedly leaving at the end of the season and we don't look anywhere close to getting a replacement! Hopefully Ballack deal will be sorted. Which reminds me of the Mick McCarthy you're a wanker chants on Saturday, absolutely brilliant, and McCarthy shown what a prick he was as well.

So basically my wishes have not been too accurate have they?